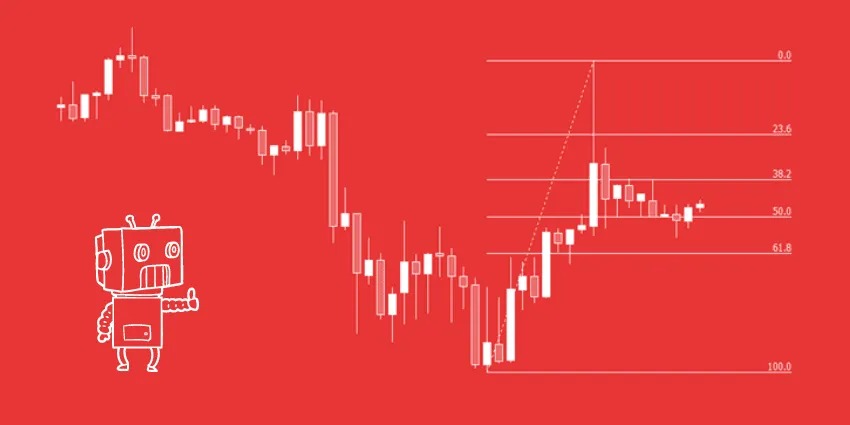 Do you use Fibonacci ratios in your technical analysis? Are you looking for an accurate auto Fibonacci indicator for MetaTrader 4 (MT4)? If so, this article is for you.
I recently wrote an article about how to use Fibonacci retracement and extension levels. I personally prefer to use the manual Fibonacci retracement tool in MT4.
The reason I prefer the default tool is that most auto Fibonacci indicators for MT4 are not accurate. They do not usually choose the correct highs and lows for drawing the retracements or extensions.
However, after much searching, I finally found an auto Fibonacci indicator for MT4 that works most of the time. In fact, if you don't mind making a small adjustment to the indicator from time to time, it can be 100% accurate.
An Accurate Auto Fibonacci Indicator for MT4
The indicator that I found is called the KISS Auto Fib. Like its name suggests, this indicator is simple but it's accurate. In the image below, you can see an example of it in action.
This indicator displays the Fibonacci retracement and extension of the most recent swing in price. It also displays the price of each respective level.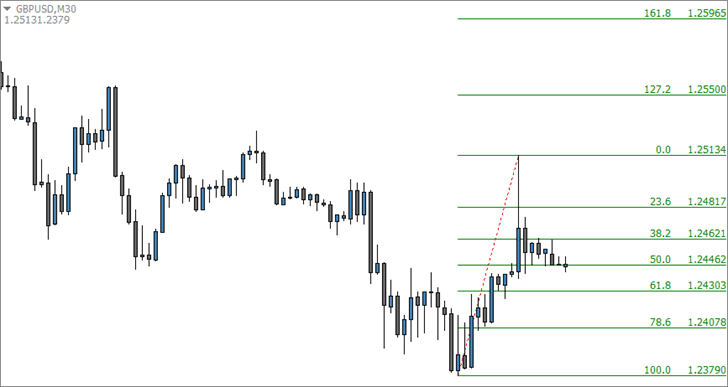 As you can see from the example, this indicator obviously has a simple, clean design. However, the thing that really separates this indicator from the others is the ability to adjust the look back period.
24 is the default "lookback" value (in candlesticks/bars), which I found to be pretty accurate most of the time. On a few occasions, it was necessary to increase the value to 30 or even 40 in order for the measurements to be done off of the correct highs and lows.
Note: To adjust your indicator settings once the indicator has been added to your chart, right-click and go to "Indicators List" (or hit Ctrl+I). Then select your indicator and click "Edit".
The ability to adjust the look back period makes this the most accurate auto Fibonacci indicator for MT4 that I have used. If you're not going to manually measure your Fibonacci retracements and extensions, this is the next best thing.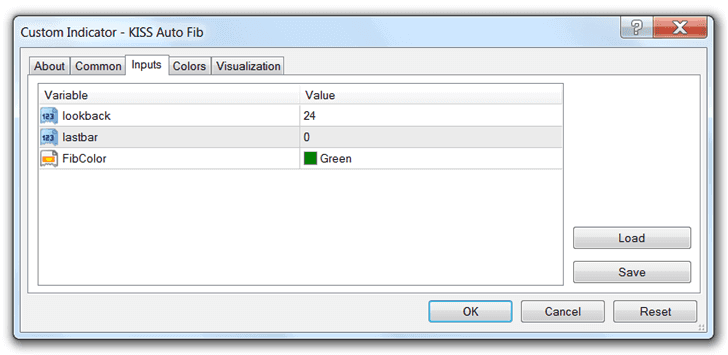 There is also an option to adjust the "lastbar" value, which is 0 by default. A value of 1 would tell the indicator to ignore the current candlestick/bar when measuring. A value of 5 would exclude the last 5 candlesticks/bars from the measurement.
I didn't find this setting to be nearly as useful as the "lookback" setting. However, this may come in handy if you want the indicator to continue to display the same measurement as price leaves the retracement area and heads into the extension area (by default it would adjust the measurement).
Installation Instructions:
Download and extract the KISS Auto Fib indicator.
Place it in your "Indicators" folder (MetaTrader 4 > MQL4 > Indicators).
Start or restart MetaTrader 4.
Open your "Navigator" window (Ctrl+N).
Drag the indicator onto your chart.
Adjust your desired settings and colors and click the "OK" button.
Using Fibonacci retracement and extension levels can help you qualify better trades and choose better take profit levels. They can work in conjunction with just about any trading system, which is one reason Fibonacci trading is so popular.
If you're a Fibonacci trader and you've been looking for an accurate auto Fibonacci indicator for MT4, I hope this simple indicator will be a breath of fresh air to you. If you found this indicator useful, please be sure to share this article with others! They will thank you.