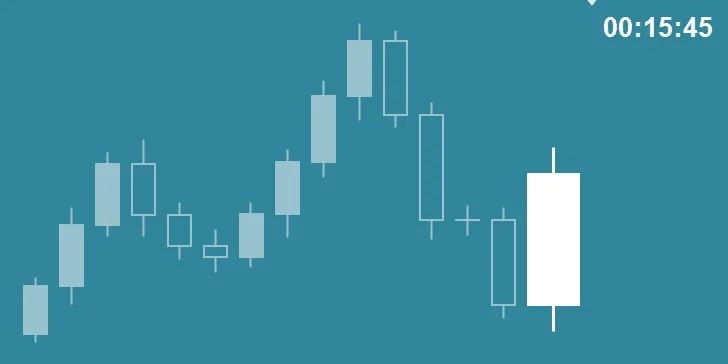 What is Handy Candlestick Timer?
The Handy Candlestick Timer is a plugin for Metatrader 4 (MT4) that helps traders stay on top of their trades by allowing them to monitor potential trends and identify buying and selling signals within the charts. It does this by displaying candlesticks directly on the current chart, showing traders when certain entry points are reached or exceeded.
As an example, if a trader sets up a buy signal at 1.3000 and the price exceeds that level, they will be alerted with an on-screen notification.
Are you looking for a bar or candlestick timer for MetaTrader 4? An indicator to count down the time until the next candle or bar? Then you're in luck. I've found a pretty cool candlestick timer to share with you guys.
The timing of your candles or bars can be an invaluable tool, especially in day trading, and even more so if you happen to be a scalper. I'm not sure why MetaQuotes (creators of MT4) didn't include this feature in their MetaTrader 4 platform, but luckily for us, there are some talented programmers that are willing to share their work with the MT4 community.
As some of you may know, I use a countdown timer in my own trading. In the past, I used a premium indicator for this feature. I switched to the CCTR (Candle Closing Time Remaining) indicator a couple of years ago, and I haven't looked back.
This is one indicator that I can't trade without. I use this indicator daily with my main trading system, along with a trading sessions indicator, a true MACD indicator, and a break-even Expert Advisor.
How Can Handy Candlestick Timer Help Me Succeed?
By using the Handy Candlestick Timer plugin, traders have access to more accurate data and insights than ever before. This allows them to make better-informed decisions, leading to higher profits and fewer losses over time. Additionally, they can set up custom alerts and notifications that remind them when certain conditions are met or exceeded – meaning they never miss an opportunity again! The best part is that all of these features are easy to use and understand – even if you're new to trading! Learn more about smart investing with Neo Invest Pulse.
How to Use This MT4 Candlestick Timer Indicator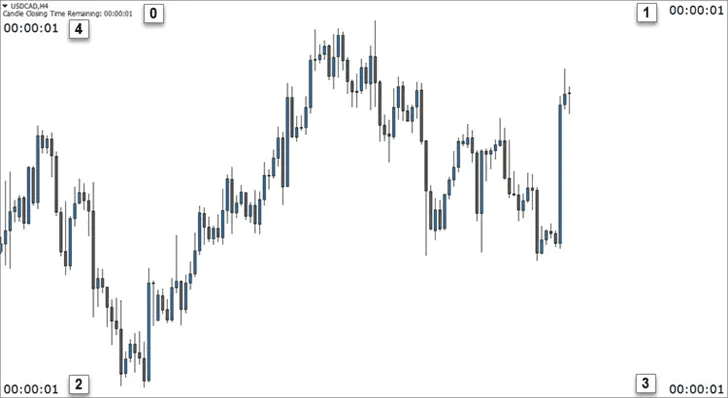 In the picture above, I've marked the candlestick timer positions (0-4). Under the "Inputs" tab of this indicator, change the "location" variable to these numbers to place the timer in its corresponding position.
Location 0 – Put the name of the indicator and a small version of the timer in the upper-left corner.
Location 1 – Put the candlestick timer in the upper-right corner.
Location 2 – Put the timer in the lower-left corner.
Location 3 – Put the timer in the lower-right corner.
Location 4 – Put the timer in the upper-left corner.
I personally use location value 3 (lower-right corner). That way, when I use an Expert Advisor, the two aren't fighting for space in the upper-right corner.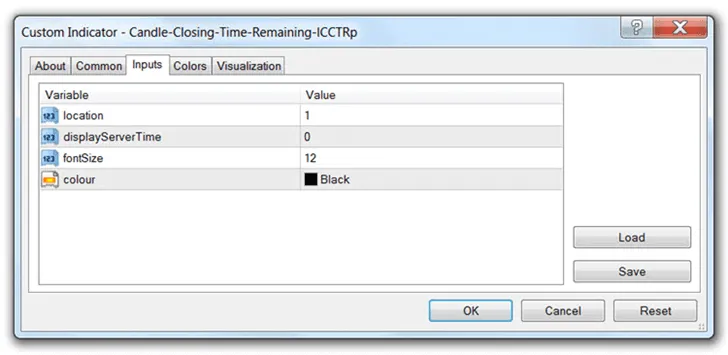 You can display your broker's server time with this indicator by turning the "displayServerTime" function on. By default, this function is turned off (0). Set the value to 1 to turn this function on.
You can also change the font size of the clock as well as the color. The default font size and color are 9 and silver respectively. I use 12 and black on my own charts (see the image above).
Installation Instructions:
Download and extract the Candle Closing Time Remaining indicator.
Move it to your "Indicators" folder (MetaTrader 4 > MQL4 > Indicators).
Start or restart MT4.
Open your "Navigator" window, if it's not already open (Ctrl+N).
Drag the Candle Closing Time Remaining indicator onto your chart.
Adjust the settings and colors, if needed, and hit the "OK" button.
There are other MT4 candlestick timers (or bar timers) out there, but I prefer this one. Once you get used to using a candlestick timer, you will probably also wonder why MetaQuotes did not include something like this in the default platform. I use this indicator every day that I trade, so I hope you find this candlestick timer for MetaTrader 4 as useful as I have.