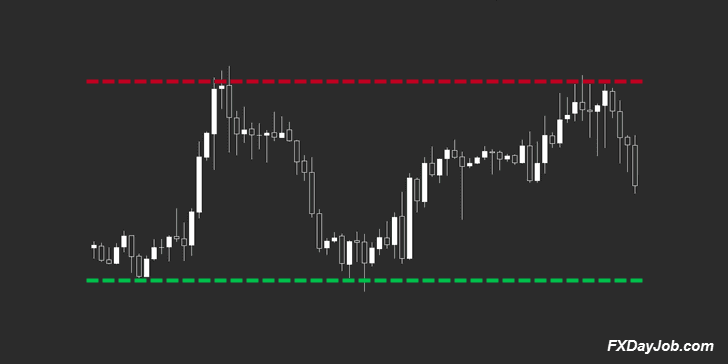 What's the best support and resistance indicator for Metatrader 4 (MT4)?  If you're like me, and you scan several pairs in the Forex market for trade setups,  then you have probably found it to be quite tedious at times to manually plot out your support and resistance lines.
Manually plotting out your support and resistance lines (or zones) is usually the best way to go, assuming you know how to properly plot them.  However, many good indicators have been developed that can handle this task pretty well.
The importance of incorporating support and resistance into your trading cannot be overstated, as the market usually has, at least, a brief interaction with any important support or resistance level.
Note: Price will sometimes race right through support or resistance levels like they don't exist, especially in the Forex market.
 
To learn why this happens and more support and resistance tips, download my free eBook, How to Choose Better Support and Resistance Levels.
Horizontal support and resistance levels are not the only levels that you should be concerned with either; often, moving averages (e.g. , the 50, 100, and 200 SMA) will provide dynamic support and resistance, although these levels are far less dependable.  In addition, trend lines often act as support or resistance.
You don't need to download anything (other than MT4) to plot out dynamic support and resistance or trend lines, as the default trading platform is equipped with moving average indicators that you can just drag onto your charts, as well as trend line drawing tools.  For the purpose of this article, we will focus on horizontal support and resistance indicators.
Best Support and Resistance Indicator for MT4
I personally plot all of my horizontal support and resistance levels manually, and I honestly believe that is the way to go.  However, if you use pivot points, there are a few good, free indicators that can automatically plot these points for you in MT4.  The best one that I've seen is vS_PivotsD (pictured below).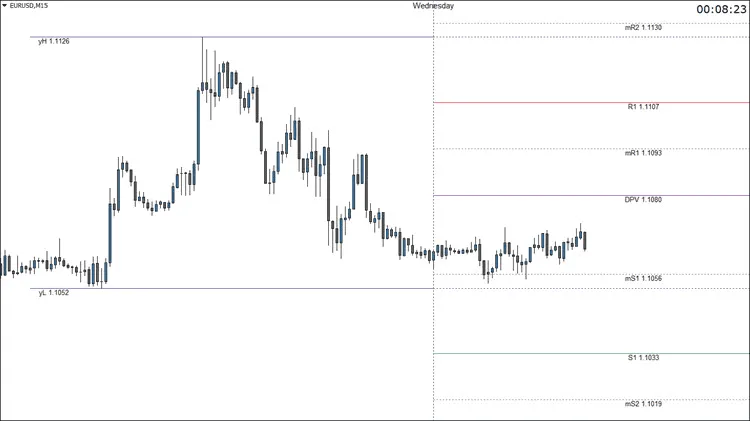 Note: I've also added the newer version of the indicator, vS_PivotsD_v4. I like the original version of the indicator more, but I'm adding the newer version here now in case some of you prefer that one.
This handy indicator automatically plots your pivot point, based on the Daily chart or Fibonacci levels.  It plots the previous day's high and low, S1-S3, R1-R3, and all of the mid-range support and resistance levels. It can even plot inner and outer Fibonacci levels for you.
One of the reasons I believe this is the best support and resistance indicator for MT4 is the fact that there are a ton of options to customize this indicator to your preferences.  There are 80+ fields that can be edited under the "Inputs" tab alone.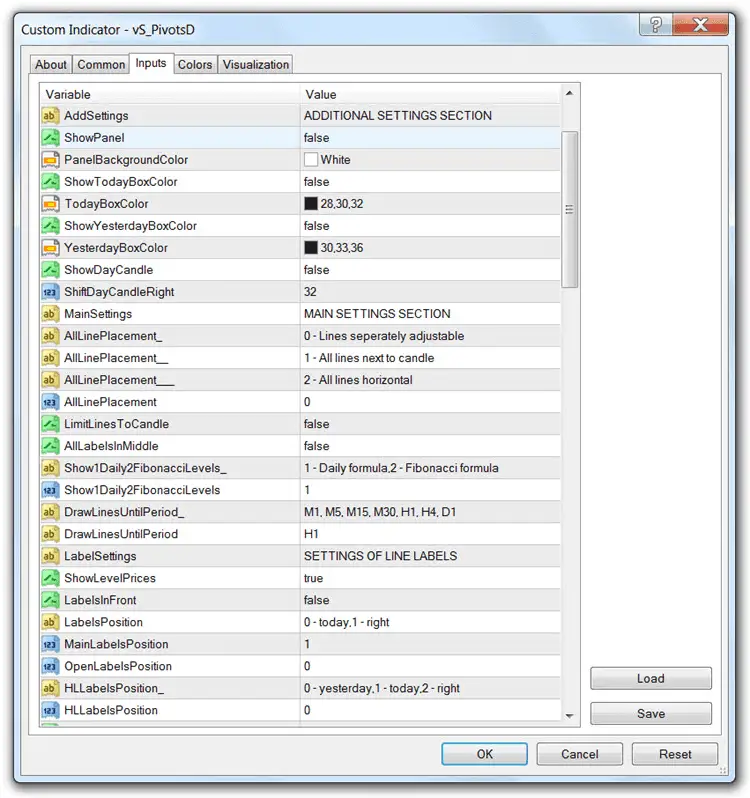 Don't let the abundance of options scare you away from this indicator, though.  It's actually very simple to implement, while still providing options to change colors, display positions, custom session times, etc…. I only had to change a few settings to get the display in the chart above.
After installing, you'll probably want to bring up your period separators (Ctrl+Y), and make sure the indicator's new day is aligned correctly.  If it needs to be adjusted, simply edit the "LocalTimeZone" or "DestTimeZone" variables.  The default settings were correct on my charts.
Installation Instructions:
Download and extract the custom vS_PivotsD or vS_PivotsD_v4 indicator.
Place it in your "Indicators" folder (File > Open Data Folder > MQL4 > Indicators).
Restart MT4.
Open your "Navigator" window, if it's not already open (Ctrl+N).
Drag the vS_PivotsD or vS_PivotsD_v4 indicator onto your chart.
Adjust the settings and colors, if needed, and hit the "OK" button.
You may have to play around with the settings for a bit to get the appearance you're looking for.  Although there are many options, the lesser-used features are set to "false" by default.  I recommend setting the "ShowPanel" and "ShowDayCandle" variables to "false" for a cleaner chart.
In my experience, this is the best support and resistance indicator for MT4.  There are other indicators available, but I haven't found any of them to be very good. Hopefully, you guys will find this one useful. Let me know in the comments below.