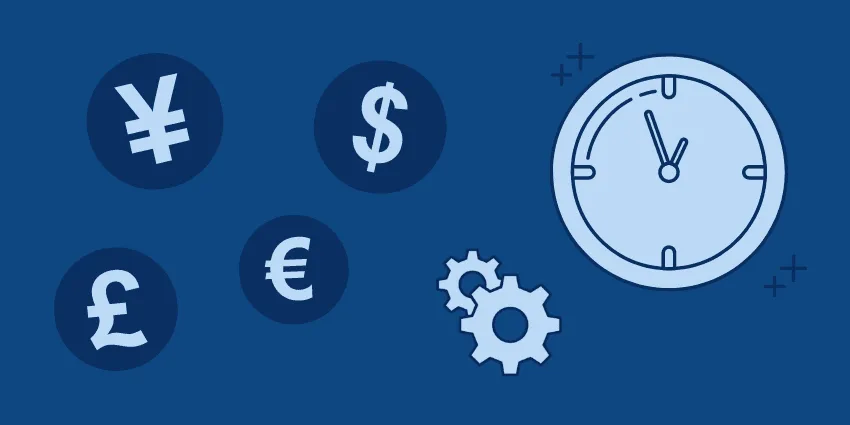 Have you ever wanted to create your own custom time frames in MetaTrader 4? I'm going to show you how to do just that with a cool, easy-to-use MT4 period converter. Creating custom chart periods is easy with the free MetaTrader 4 platform.
MetaTrader 4 is an award winning Forex trading platform and is the most popular trading platform on the market today. With MetaTrader 4 (MT4), you can create custom trading robots called Expert Advisors (EAs), and you can automatically backtest trading strategies.
Users of MetaTrader 4 also enjoy a community of traders that program and freely share their own EAs. In fact, most of the custom indicators, scripts, and Expert Advisors are built and distributed by this tech savvy user community. Almost anything can be found, and just about any trading strategy can be programmed.
Even with all its flexibility, MetaTrader 4 does have its limitations. For one, constant volume charts (also known as tick charts) aren't available for MT4 by default. I've written an article on how to create tick charts in MT4, but I'm still keeping my eye out for a more practical solution.
I still haven't found a single tick chart solution that doesn't have to be rebuilt each time the custom tick chart or the MetaTrader 4 platform is closed. If you switch between profiles often, then something like that is simply not practical.
That being said, there are some features that MetaQuotes (creators of MT4) overlooked that can be implemented fairly easily, and without a big headache from a practical standpoint. One such feature that we can add is custom time frames, using a simple custom indicator for MT4 called a period converter.
Note: MetaTrader 4 comes with a PeriodConverter script, but it has to be reapplied to your charts every time you restart the platform. The indicator downloaded from this page does not need to be reapplied to your charts after each restart.
Use the 7-step process below to create custom time frames in MT4:
Step 1 – Download the custom P4L PeriodCon 509 indicator.
Step 2 – Move the extracted file to your Indicators folder (File > Open Data Folder > MQL4 > Indicators).
Step 3 – Start or restart MetaTrader 4.
Step 4 – Open a chart of the currency pair that you would like to make a custom time frame for.
Step 5 – Open your "Navigator" window (Ctrl+N), if it's not already open, and drag the custom MT4 period converter onto your desired chart.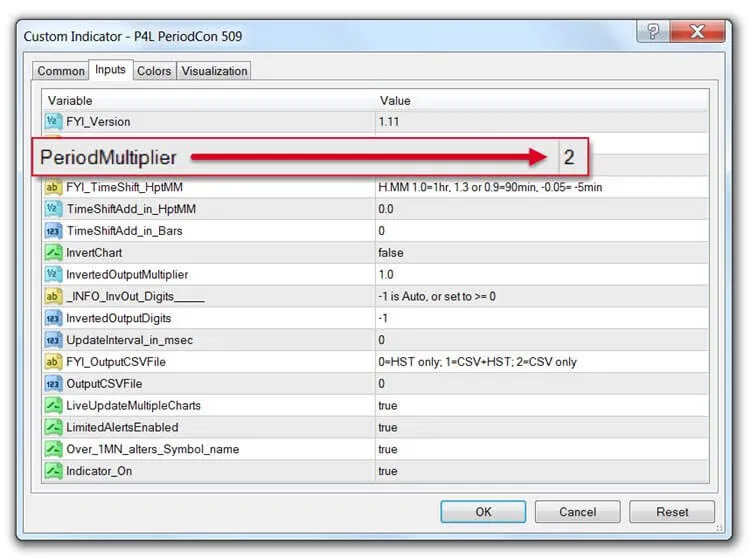 Step 6 – Adjust your settings under the "Inputs" tab, if needed and click "OK". The only setting that most of you will need to adjust is the value for the "PeriodMultiplier" variable.
Note: Under the "Common" tab, make sure "Allow DLL imports" is checked or else this indicator will not work.
In the picture above, the "PeriodMultiplier" variable is set to a value of 2. This number can be changed to whatever you like. The chart that you apply this indicator to will be multiplied by this number.
Example: If you apply the MT4 period converter with the setting of 2 (above) to a 5 minute chart, this would produce a 10 minute chart. If you change "PeriodMultiplier" to 4, that same 5 minute chart will produce a 20 minute chart.
You can also add multiple instances of the indicator to one chart. In other words, you could create your 10 minute and 20 minute chart from the same 5 minute chart. You would just have to add two of the period converter indicators to your original 5 minute chart.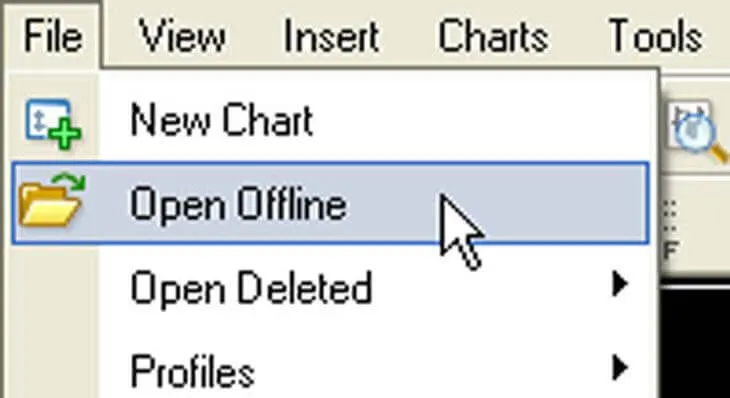 Step 7 – To use your custom time frames in MetaTrader 4, you must find and open them. All of your custom time frames can be found in your offline charts (File > Open Offline). See the picture above.
Navigate to and open your newly created custom time frames (see the picture below). Your new custom chart times will stay active, as long as the original chart (the one that you applied the MT4 period converter to) stays open.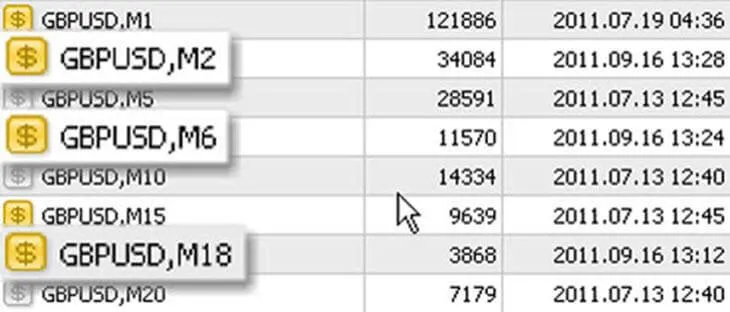 Important! You must keep the original chart(s) open (the ones that you applied the indicator to) or else your newly created custom time frames will not update in real time.
How I Trade with this MT4 Period Converter
If I'm setting up my charts to trade a multiple time frame strategy, I could create groups of 3 custom time frames that are 3 periods apart from each other. Something like this: GBPUSD 8 Hours – 1 Day – 3 Days (8 Hours x 3 = 1 Day x 3 = 3 Days).
To accomplish this, I open a GBPUSD chart and select the 4-Hour default time frame in MetaTrader 4. Then I apply the custom MT4 period converter to my 4-Hour time frame with the "PeriodMultiplier" variable set to 2. This creates an 8-Hour custom time frame.
Since the 1-Day time frame is available by default, I simply need to open a new GBPUSD chart and set it to D1. Next, I apply a second instance of the custom MT4 period converter to my original 4-Hour chart. This time I set the "PeriodMultiplier" to 18, which produces a 3-Day chart.
Note: I could also apply the custom period converter to my 1-Day chart and set the "PeriodMultiplier" to 3 to produce a 3-Day chart.
Now, I have a short, medium, and long time frame group for swing trading setups. Lastly, I would save this as a separate profile for this currency, and call it something like GBPUSD 8H-D1-D3 or GBPUSD Swing Trade.
This way I can open other charts and profiles, but you can always come back to my custom GBPUSD profile without having to go through these steps again. I personally use a separate profile for each currency and relative time frame (e.g., GBPUSD Short, GBPUSD Medium, GBPUSD Swing Trade, etc…).
Note: Although this custom MT4 period converter is a big improvement over the default script, it can still be resource hungry when many custom charts are open at once. Setting up groups of custom chart times in separate profiles can save you some headaches, and your CPU will thank you.
Multiple time frame trading is a popular technique. It's great for timing entry triggers and making fractal energy observations.
In the past, I used these custom chart period groups in MT4 regularly, so I figured you might find this guide helpful.  Now you know how to create your own custom time frames for MetaTrader 4 by using this free MT4 period converter. If you have any questions, please leave a comment. I'm happy to answer them.