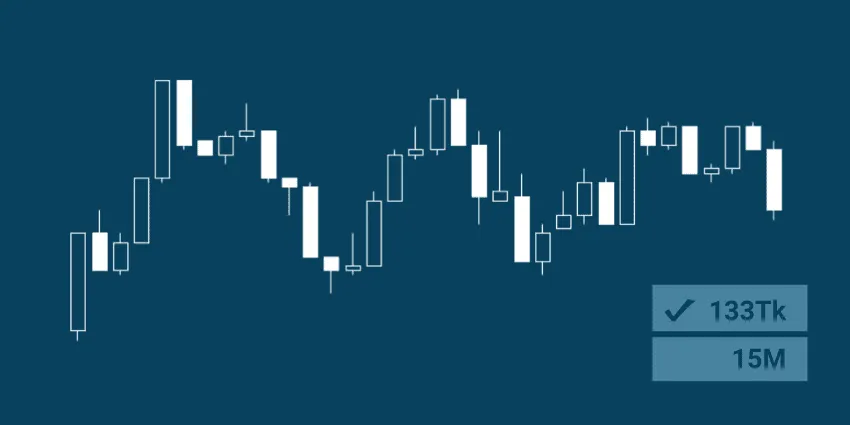 Another useful feature that you can add to MetaTrader 4 (MT4), through indicators, is tick charts. These aren't the most practical indicators to use, but for those of you who wish to try them, I'm going to show you how to create tick charts in MT4.
It's impractical for most traders to create tick charts in MT4 because your tick charts have to be rebuilt every time you restart the MetaTrader 4 platform or close your M1 chart. In other words, your tick chart will have gaps in its price history unless you leave MT4 running.
Other Forex trading platforms, such as NinjaTrader and TradeStation, have the ability to create custom time frames and accurate tick charts by default. Maybe in the future MetaQuotes will add custom time frames and tick charts as a default feature.
For now, you can use the 8-step process below to add tick charts to MT4:
How to Create Tick Charts in MetaTrader 4 (MT4)
Step 1 – Download and extract the Log Tick Data and Post Tick Data indicators.
Step 2 – Copy or move them to your Indicators folder (File > Open Data Folder > MQL4 > Indicators).
Step 3 – Restart MT4.
Step 4 – Open an M1 chart of the currency that you would like a tick chart of, as well as your "Navigator" window (Ctrl+N) if it's not already open.
Step 5 – Drag TickChart.LogTickData.ex4 onto your M1 chart, check "Allow DLL imports" under the "Common" tab, and click "OK".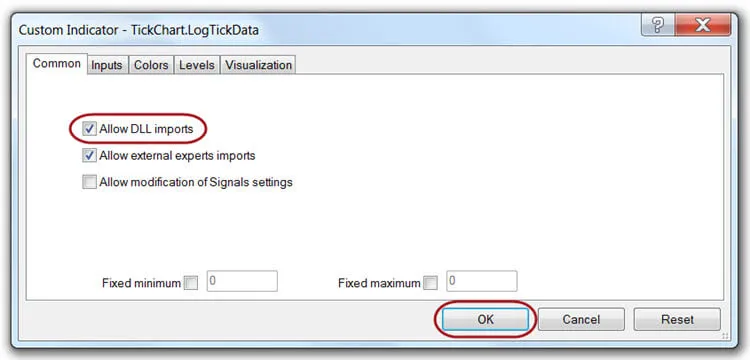 Note: It's important that TickChart.LogTickData.ex4 (Step 5) is added to your chart before TickChart.PostTickData v1.1.ex4 (Step 6) to avoid any malfunctions.
Step 6 – Drag TickChart.PostTickData v1.1.ex4 onto the same chart, check "Allow DLL imports" again, but don't click "OK" yet.
Step 7 – Select the "Inputs" tab and double click the value for "TicksInBar". The default value is 5. Change this value to input how many ticks you want each bar to contain. Once you are done, click the "OK" button.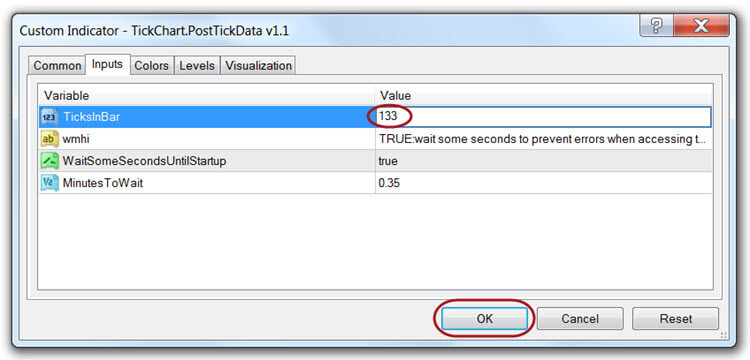 Step 8 –  Bring up your offline charts window (File > Open Offline). Open the tick chart that you created. It should be labeled similarly to this: !T-EURUSD, M(TicksInBar value). See the image below for a few examples of custom tick charts that I created with these indicators.

Note: Be sure to keep your original M1 chart open. Closing it will cause your tick chart to stop receiving data.
You can save your newly created tick charts as a custom profile. This will allow you to switch away from your tick charts and come back to them again without going through all these steps.
Remember that MetaTrader 4 does not automatically fill in the price history of your tick chart, so you will only get accurate price action on your charts as long as MT4 is running and your custom tick chart and original M1 chart are open.
Using these indicators is obviously more practical with smaller tick per bar trading setups because your chart will fill up with accurate tick bar price action more quickly. The more ticks per bar that you require, the longer you will need to run MT4 and your custom tick charts, in order to display enough accurate price history to start trading.
Like I said, it's not the most practical thing ever, but I'm sure some of you will find this useful. Now you know how to create tick charts in MetaTrader 4 (MT4). If you found this article helpful, please share it with other traders, and let me know how you are using your custom tick charts.