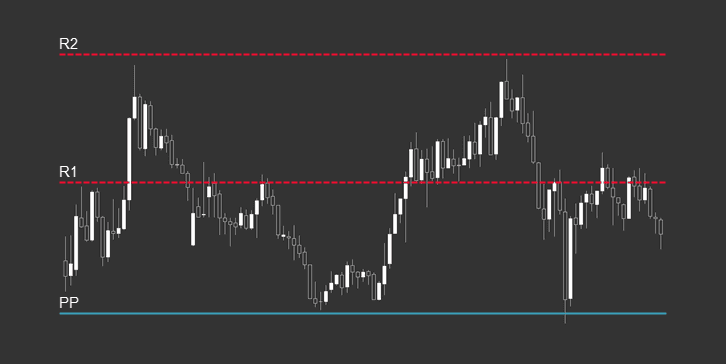 Are you looking for a good pivot point indicator for MetaTrader 4 (MT4)? In this article, I'm going to show you what I believe is the best pivot point indicator for MT4 and why I think you'll like it too.
Pivot points and the various other support and resistance levels that are calculated from them are often great levels to trade from. Price usually has at least some interaction with each level, and many trading strategies have been created to take advantage of this fact.
If you're not sure how to use pivot points in your own trading, take a look at a recent article I wrote about 3 profitable pivot point strategies.
The Best Pivot Point Indicator for MT4
The indicator pictured below is called Auto Pivot Plotter. It's a clean pivot point indicator for MT4 (no labels). I like using clean and simple indicators like this one because it helps to keep your charts from becoming cluttered with unnecessary information.
In the image below, I changed all of my resistance levels to red, my support levels to green, and my pivot point to blue. You have the option to change the color of each level individually, which can help you identify individual levels.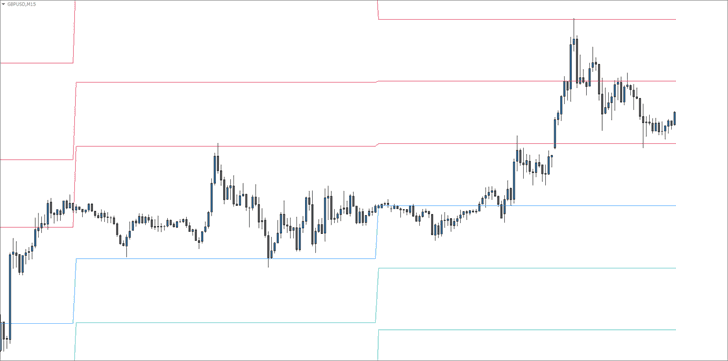 Auto Pivot Plotter is the best pivot point indicator for MT4 in my experience, especially if you plan to use it while backtesting. Many of the pivot point indicators available for MT4 plot levels based on the current day, week, or month, but they don't show historical levels, which makes them useless for backtesting.
Note: I wrote about another pivot point indicator that I recommend here. It is a great indicator with many more features than the one on this page, but it doesn't display historical levels and only displays daily pivot points.
You can adjust the number of historical levels that are displayed. Simply adjust the value for "DaysToPlot" to display your desired historical levels.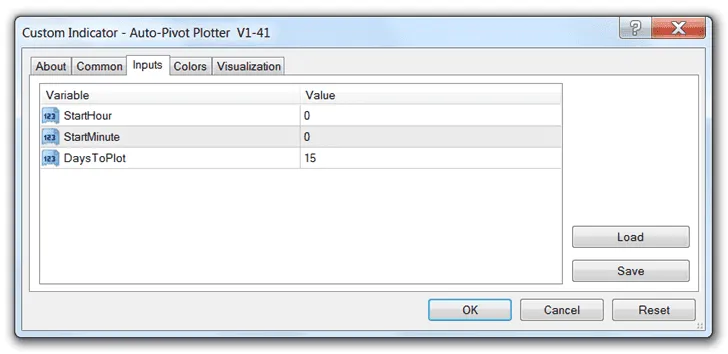 This pivot point indicator for MT4 also allows you to adjust the start time for the period of your pivot point calculations. This could be useful, for instance, if for some reason you're not using NY close charts but you'd like to base your pivot point calculations on NY close prices.
To make changes to the starting time of your pivot point calculations, simply change the value of "StartHour" or "StartMinute" from 0 to a whole number (positive or negative). Most traders will not need to use this feature.
Finally, there is also a weekly pivot point version of this indicator as well as complementary indicators that plot mid-point levels for both the daily and weekly indicators. All of these are available in separate downloads below.
Downloads:
Auto Pivot Plotter
Auto Pivot Plotter (Mid-Levels)
Auto Pivot Plotter Weekly
Auto Pivot Plotter Weekly (Mid-Levels)
Installation Instructions:
Download and extract your desired indicator(s).
Place them in your "Indicators" folder (File > Open Data Folder > MQL4 > Indicators).
Restart your MT4 platform.
Open your "Navigator" window, if it's not already open (Ctrl+N).
Drag your desired indicator(s) onto your chart.
Adjust the settings and colors, if needed, and hit the "OK" button.
The are several other MT4 pivot point indicators that can do similar things. I chose to share Auto Pivot Plotter, in part, because it's simple, lightweight, and it produces a clean display.
However, the biggest advantage of this indicator is that it displays historical pivot point levels. If you're developing a trading plan that involves pivot points, this indicator will be invaluable to you during your backtesting phase.
If you've read this far, you probably already know the value of pivot points. With the right trading system, they can be very powerful and profitable. Do you agree that this is the best pivot point indicator for MT4? Leave a comment below to let me know.